MACEDON, NY (April 16, 2019) – Auburn Bearing & Manufacturing is pleased to announce the addition of a new and exclusive mounted thrust bearing solution, the MT-114RG, to our trusted line of bearings. The MT-114RG allows our popular T-114RG style thrust bearing series to be conveniently threaded onto a shaft for mounting or to be bolted into place. This bearing and mount combination allows for fast and easy mounting of this small, self-contained thrust bearing.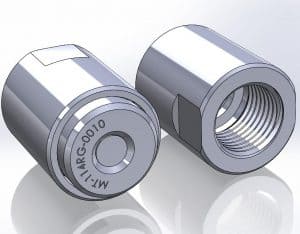 Key Product Highlights:
Convenient, time-saving solution for mounting the T-114RG bearing
Supports an unusually high load capacity
Manufactured in the USA
Custom sizes and materials available
Free application support
The Challenge: The T-114RG Series thrust bearing is a small, self-contained thrust bearing that has an unusually high thrust load capacity. We've seen this style bearing used in many applications, including printing machine, screw jacks — basically anywhere that you need to accommodate a large thrust load with little space. In the past, many different mounting ideas were used, but typically, the T-114RG would be placed in a pocket.
The Solution: Our new design allows our T-114RG bearings to be thread/screw mounted, which gives the designer more options in how to use the bearing as well as the ability to adjust the length of the assembly. We designed this type of mount because we found that a lot of our customers were building them themselves. The new mounting feature opens the creative mind for the design in using this bearing. It is particularly useful when the bearing is to be mounted on the end of an air cylinder and the air cylinder/bearing is to push something that is rotating.
The new MT-114RG can be installed using a variety of mounting configurations, including 1) bottom thread mounting, 2) shoulder mounting, and 3) lock nut mounting.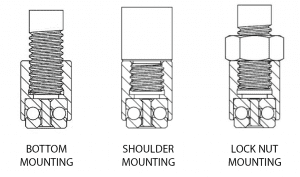 About Auburn Bearing & Manufacturing
Auburn Bearing & Manufacturing, founded in 1989, is one of the oldest continuously operating thrust ball bearing manufacturers in the United States. ABM is known for its exclusive line of "V" groove thrust bearings, which are designed to reduce rolling friction. Today, ABM specializes in manufacturing custom ball and roller thrust bearings in low- to mid- volume, as well as in custom manufacturing of precision machined components. To learn more about ABM's full line of bearing products and manufacturing services, please call (315) 986-7600 or email sales@auburnbearing.com.