Auburn Bearing & Manufacturing, founded in 1898, is considered to be one of the
oldest continuously operating thrust bearing manufacturers in the United States. Today, we specialize in the design, development, and manufacture of custom, hard-to-find, discontinued and obsolete bearings in low- to mid- volume with short 4 to 6 week lead times. We can customize various aspects of a bearing, including its size, design, features, and materials to accommodate to a wide range of industries and applications. We can quote per print, per sample, and per part number from another manufacturer.
Beyond custom bearings, ABM also offers a complete line of standard thrust bearings, many of which feature Auburn's exclusive V-groove raceway, which was designed specifically for the purpose of reducing rolling friction. Our standard line of thrust bearings is comprised of 13 different bearing styles that range in size from 2 mm ID to 13.75 inches OD.
Additionally, ABM is capable of producing a wide range of special, made to-order machined parts and components to solve your problems. Our diverse custom manufacturing capabilities include CNC turning, CNC milling, and CNC grinding, lapping, superfinishing, automatic saw cutting, reverse engineering, and much more.
With over 120 years' experience, we have established a solid reputation in the bearing industry and are committed to providing shorter lead times, faster response times, on-time delivery, low minimum order quantities, innovative solutions, personalized service, trusted engineering support, high precision capabilities, and quality products that are made in the USA. We welcome the opportunity to offer you the Auburn Advantage.
For questions, inquiries and quotes, please call (315) 986-7600 or e-mail sales@auburnbearing.com.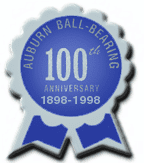 Business Hours
8AM to 5PM EST (Mon thru Fri)
Standard Bearing Line
Dealer and OEM discounting
Quantity discounts offered
Specialty Bearing Line
Standard 24 hour quotations (some exceptions)
No minimum quantity required
Delivery 4 to 6 weeks for most, 6 to 8 weeks for stainless steel or forgings
Other Terms
No minimum quantity for distributors
Blanket orders accepted
Same day shipping for standard bearing orders received by 3PM EST
C of C available upon request
DEFARS Compliance available upon request
Special orders filled +/- 10%
Industry Identification Numbers
Duns:  802616540
Cage:  4ZKN9
SIC:  3562
ECCN:  EAR99
NAICS:  332991 Ball & Roller Bearing
EIN:  47-2649107
Registered with SAMS
Organizations We Support
Auburn Bearing & Manufacturing's central belief is providing quality products with outstanding customer service, but we know there is more to life than work. The team at Auburn Bearing & Manufacturing supports several charities that are listed below. We believe in taking an active interest and role in bettering our local community, as well as, enriching the lives of others in need abroad.
Please click on the provided links. I'm sure you will find them of interest.
Kamina Friends – An economic development project in Africa.
Resolve – Committed to break the cycle of domestic violence by developing and delivering innovative, community-centered programs and services.  www.resolve-roc.org
SIS – A group dedicated to providing financial assistance for those battling breast cancer. www.HelpSIS.org
Pal-Mac Raider Robotics / FIRST Robotics – Team 1518. sites.google.com/a/palmaccsd.org/test-2/