In the summer of 2006, Macedon, New York, became the new home of Auburn Bearing & Manufacturing. Nestled in the rolling hills of upstate New York, Auburn continues the legacy first started in 1898: Manufacture of Quality Thrust Bearings. For over 100 years, Auburn has established a reputation for quality products, personal service and on time delivery. We welcome the opportunity to offer you the Auburn Advantage.
We manufacture an exclusive line of thrust bearings that are specifically designed to reduce rolling friction. Our "V" groove design distributes the load evenly over the balls as they travel on four points of contact, creating a straight line rolling effect and decreasing the amount of friction created by a full contact round groove design. The Auburn styles that incorporate the "V" groove design have the added advantage of being able to carry radial loads equal to 25% of their thrust load capacity.
Also unique to Auburn Bearing & Manufacturing is our round groove T-114RG thrust bearing. The T-114RG answers the need for an easily installed bearing requiring a minimum amount of machine work for its use. The small pitch diameter of the ball grooves for a given shaft diameter, and the large diameter balls used give a relatively low peripheral ball speed. This, together with the heavy washer sections and deep grooves, result in a bearing of unusual capacity and life for its size. It is self-contained; the two races and balls are held together as a unit by a center rivet. Its open style design allows for maximum circulation of lubricating products.
Additionally, we satisfy an industry need for custom bearings in low- to mid- volume. In most cases, obsolete and hard-to-find bearings can be manufactured and delivered to a customer in 4-6 weeks.
In 2013, Auburn Ball Bearing and Fairport Products became one company under its current name. Auburn Bearing & Manufacturing is located in the Finger Lakes region of upstate New York, and has called Macedon, NY its home since 2006.
With over 120 years' experience, we are committed to providing personalized service, short lead times, on-time delivery, trusted expertise, innovative solutions, and top quality American-made products. For questions, inquiries and quotes, please call (315) 986-7600 or e-mail sales@auburnbearing.com.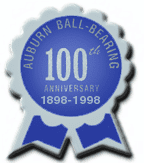 Business Hours
8AM to 5PM EST (Mon thru Fri)
Standard Bearing Line
Dealer and OEM discounting
Quantity discounts offered
Specialty Bearing Line
Standard 24 hour quotations (some exceptions)
No minimum quantity required
Delivery 4 to 6 weeks for most, 6 to 8 weeks for stainless steel or forgings
Other Terms
No minimum quantity for distributors
Blanket orders accepted
Same day shipping for standard bearing orders received by 3PM EST
C of C available upon request
DEFARS Compliance available upon request
Special orders filled +/- 10%
Industry Identification Numbers
Duns:  802616540
Cage:  4ZKN9
SIC:  3562
ECCN:  EAR99
NAICS:  332991 Ball & Roller Bearing
EIN:  47-2649107
Registered with SAMS
Organizations We Support
Auburn Bearing & Manufacturing's central belief is providing quality products with outstanding customer service, but we know there is more to life than work. The team at Auburn Bearing & Manufacturing supports several charities that are listed below. We believe in taking an active interest and role in bettering our local community, as well as, enriching the lives of others in need abroad.
Please click on the provided links. I'm sure you will find them of interest.
Kamina Friends – An economic development project in Africa.
Resolve – Committed to break the cycle of domestic violence by developing and delivering innovative, community-centered programs and services.  www.resolve-roc.org
SIS – A group dedicated to providing financial assistance for those battling breast cancer. www.HelpSIS.org
Pal-Mac Raider Robotics / FIRST Robotics – Team 1518. sites.google.com/a/palmaccsd.org/test-2/