1860 thru 1880
In 1860, Mark Dean Knowlton established a paper box manufacturing business in Nashua, NH. In 1866, he disposed of his business interest in Nashau and moved westward to Chicago, IL [6]. In Chicago, Knowlton continued his paper box manufacturing business, operating under the name M.D. Knowlton & Company.
The business prospered through the decade until the "Great Chicago Fire" swept it away in 1871 [1]. Mr. Knowlton was the first to rebuild his business from the fire's ashes, resuming operations within the same year. After being burnt out again, he joined the W. C. Ritchie Company. Here, he spent much of his time completing the invention of a paper box manufacturing machine, one that would later revolutionize the entire trade [6].
Between 1872 and 1880, Mr. Knowlton invented machinery for the production of rigid set-up boxes. Sold under the name of M.D. Knowlton & Company, this equipment included paper tube and gumming machines. He welcomed his son, Frederick K. Knowlton,  to join the company in 1879.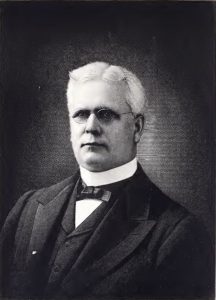 1881 thru 1903
In 1892, Mr. Knowlton sold his interest in the paper box manufacturing portion of his business, devoting his full time to the invention and production of machinery. In 1888, he introduced the corner staying machine which lay the cornerstone for mechanized rigid set-up box manufacturing. In that same year, Mr. Knowlton formed a partnership with Mr. Fred Beach under the new name of "Knowlton & Beach" and moved the business to Rochester, NY.
In 1893, Knowlton & Beach introduced to the market what was believed to be a near frictionless ball bearing, presumably the first such bearing of its time. In 1900, they incorporated this business under the name Rochester Ball Bearing Company, and it became a division of Knowlton & Beach. The Rochester Ball Bearing division specialized in the manufacture of steel balls and ball thrust bearings. A year later in 1901, the Company further expanded their bearing business when they purchased the Auburn Ball Bearing Company, a Auburn, NY-based manufacturer of ball and roller thrust bearings established in 1898. Assimilating Rochester Ball Bearing, the two companies became one as the Auburn Ball Bearing Division of Knowlton & Beach [2].

Auburn Ball Bearing's primary product, their Auburn Four-Point-Cone-Contact Ball Thrust Bearings, incorporates an exclusive "V" groove raceway, designed to distribute the load evenly over the balls as they travel on four points of contact, creating a straight line rolling effect and decreasing the amount of friction created by a full contact round groove design [3]. Auburn Ball Bearing Company manufactured various sizes and configurations of their "V" groove thrust bearings for applications in industries including paper box manufacturing, railroad jacks, U.S. submarines, and U.S. Government Light Houses. Early company documentation illustrates Auburn Ball Bearings were used to support revolving lenses in the Carysfort Reef Light, the Jupiter Inlet Light, and the St. Simons Island Light in the early twentieth century [3].
1904 thru 1939
In 1904, Mr. Fred Beach retired and withdrew his interest in the Company [4]. Mr. Knowlton subsequently took over the entire interest of the company, and later that year, he incorporated the company under the new name of M.D. Knowlton Company [5]. Mr. Knowlton served as the President of the company and the Auburn Ball Bearing division, while his son Frederick K. Knowlton served as the Vice President and Secretary.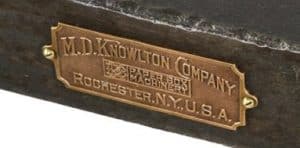 In 1906, Mark Dean Knowlton died in Boston, MA, while on a business trip. He was succeeded by his son, Colonel Frederick K. Knowlton, US Army Reserve, who took over as President of M.D. Knowlton Co. During his time as president, the Auburn Ball Bearing Division was able to patent a number of new and innovative improvements to the design of thrust ball bearings under inventor Francis A. Collins, Jr in 1917.
Patent US1219919A — Triple-race ball bearing which is self-contained, readily positioned, and high efficient in its operations.
Patent US1219920A — Double thrust ball bearing which is self-contained, and, therefore, capable of being handled and positioned as a unit.
Patent US1219921A — Double thrust ball bearing which is capable, when installed, of slight radial movements to accommodate itself to the radial position of the shaft, due to wear of the bearings, but is also capable of accommodating itself to angular changes in the position of the shaft, while providing a means for holding the parts of the bearing together to form a unit of the same so that it may be readily handled and positioned.
The Company continued to grow under the direction of Colonel Frederick Knowlton until his death in 1939.
1939 thru 1969
Colonel Frederick Knowlton passed the M.D. Knowlton Company onto his two daughters who hired an outside manager to run the business. The Company continued thru the war years and post-war years under family direction.
In September of 1962, the Company purchased the Langley Manufacturing Company of Cambridge, MA, which then became the Langley Manufacturing Division. The Langley Division manufactured a custom line of hydraulic and cable operated lifts and dumpers. With over 340 distributors in the U.S. and Canada, Langley accounted for approximately 70% of the business. Auburn Ball Bearing, selling mostly to distributors who supply replacements parts for OEM equipment, brings in some 20% of the company's business. 
1970 thru 2006
In 1970, M.D. Knowlton Company moved operations to Victor, New York, where the Knowlton Building then served as the company's headquarters [2]. At this point in time, the company consisted of three divisions: the Knowlton division, the Auburn Ball Bearing division, and the Langley division.
Early in the spring of 1971, Barcar Machine Company of Victor, New York, was purchased and became yet another Knowlton division. Barcar functioned as a contract machine shop serving primarily the greater Rochester area. All finished machining (both in-house and contract) was performed by the "Knowlton Division" which also continued to manufacture spiral paper tube and composite can equipment. Additionally, the Company continued to supply spare parts for its set-up box machinery still in operation.
In 1980, Kent Fellows took over as president of the Company, passed on to him by his mother and aunt. In the late 80's, Fellows was faced with sinking sales and a receding custom base. This was largely a result of an outdated 19th century organizational style, inherited from founder Mark Knowlton and passed on unexamined through three generations. 
In the 90's, the Company was given a new lease on life. In 1996, under Fellow's leadership, the Company began focusing efforts on increasing efficiency, cutting inventory, and using only existing cash flow. A few years later, these savings were used on initiatives to market the brand, to bring in new engineering talent, to implement new training for workers, to purchase new equipment, and to improve communication with customers as well as internal communication between engineering, sales, and management [7]. Additionally, in the late 90's, the Langley Division introduced a newly designed lift and the Auburn Ball Bearing Division entered into the OEM market to help boost sales [7].
2006 to Present
On August 18, 2006, Fairport Products, a designer and manufacturer of power transmission parts and equipment founded 14 years earlier, acquired the Auburn Ball Bearing Division of M.D. Knowlton Company. Its operations were then moved to the small town of Macedon, NY. The businesses continued to operate as two separate business entities until June 10, 2013, when the two companies became one under the new name Auburn Bearing & Manufacturing.
Under the leadership of the current President Peter Schroth, Auburn Bearing & Manufacturing continues to manufacture the original Auburn Groove Thrust Bearing. Additionally, the Company manufactures standard round groove thrust bearings and custom, made-to-order thrust and radial bearings. Auburn Bearing specializes in custom, obsolete, hard-to-find, and discontinued bearings in low to mid-volume production quantities and short lead times. Our products are distributed by a large network of industrial distributors including Motion Industries, Kaman Industrial Technologies, Applied Industrial Technologies and Bearing Distributors, Inc.
On February 1, 2021, Auburn Bearing & Manufacturing Inc acquired the assets of Aurotek TSB, Inc, a manufacturer of precision thin section bearings for a broad array of industries. These bearings are used in a variety of applications, namely, for use in defense weapon systems, medical equipment, radar equipment, aerospace guidance systems, packaging machines, industrial assembly machines, and robotics for security, medical, nuclear and defense systems.
3.  Ball Bearing Engineering. Auburn, NY: Auburn Ball Bearing Company. 1920.
7.  Rochester and Monroe County, New York: Pictorial and Biographical. (1908). Pioneer Publishing Co. pp. 215-217.