MACEDON, NY (September 3, 2014) — US thrust bearing manufacturer, Auburn Bearing & Manufacturing, received a request from a renowned medical device company to manufacture a custom-made mini thrust bearing for a delicate medical part to be used in an innovative treatment for scoliosis.
The medical device company first turned to their Asian-based supplier to fulfill their custom bearing order. After waiting months to receive their order, they discovered that the bearings had been manufactured out of specification for their application. The lead time their supplier game them for replacement bearings was unacceptable. They sought out a bearing manufacturer that could fulfill their order with a quick turnaround time, so they called on Auburn Ball Bearing for help.
Auburn Bearing & Manufacturing was ready to face the challenge, and was able to manufacture and deliver the finished product to the customers specification in only 13 days.
According to company President, Peter Schroth, "We had never manufactured a thrust bearing of this size before, but we were able to complete and ship out the custom order within 13 days."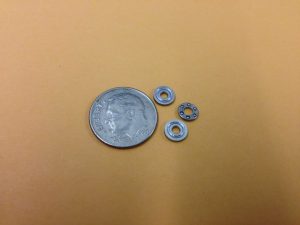 Material: 440C SS races and balls, 416C SS ball retainer
Quantity: 100 pcs
0.0827″ ID, 0.2362″ OD
0.043″ thickness
Number of balls: 7 pcs