MACEDON, NY (September 16, 2019) – The August 2019 issue of Design World magazine featured Auburn Bearing's new bearing mounting system, the MT-114RG.
As we share in our product announcement:
"The MT-114RG mounted thrust bearing is a bearing assembly that allows the T-114RG style thrust bearing series to be conveniently threaded onto a shaft for mounting or to be bolted into place. This bearing and mount combination allow for fast and easy mounting of this small, self-contained thrust bearing."
We designed this type of mount because we found that a lot of our customers were building them themselves. The new mounting feature opens the creative mind for the design in using this bearing.
This new mounting system design allows the bearing to be screw mounted, which gives the designer more options in how to use the bearing as well as the ability to adjust the length of the assembly. It is particularly useful when the bearing is to be mounted on the end of an air cylinder and the air cylinder/bearing is to push something that is rotating.
The MT-114RG can be mounted in a variety of ways, including 1) bottom thread mounting, 2) shoulder thread mounting, and 3) lock nut mounting.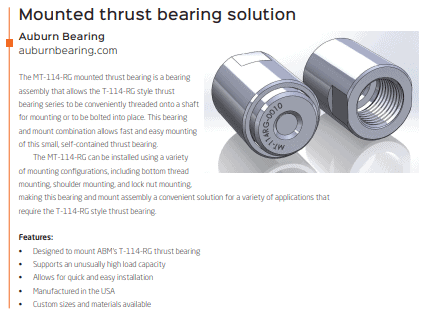 Read the full article on Design World Online or in Design World Magazine August 2019 on page 124.
For more information on our new MT-114RG Mounted Thrust Bearings, please contact us at sales@auburnbearing.com or (315) 986-7600.